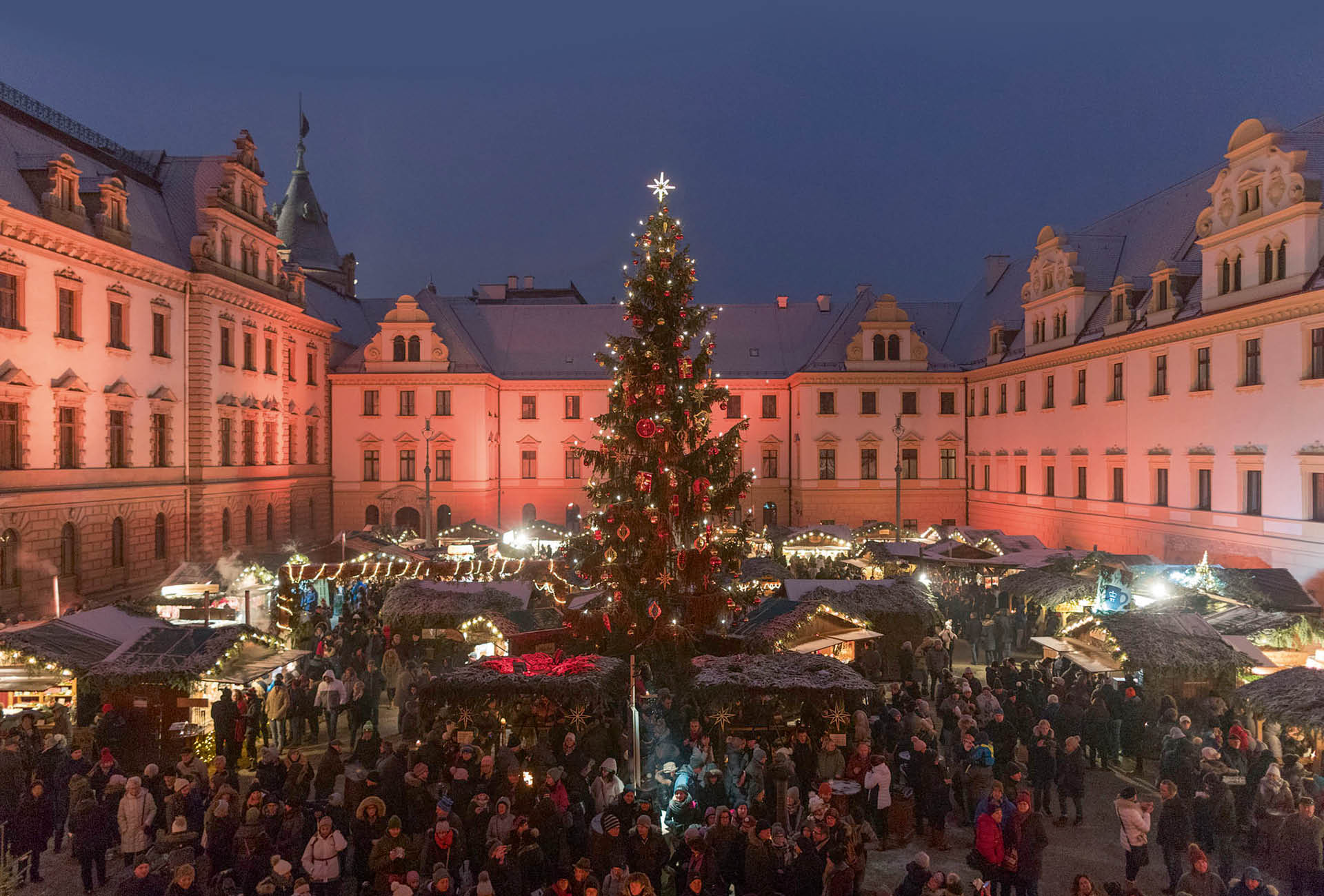 Opening hours:
19th November - 23rd December 2021
Closed: 21st November (Sunday of commemoration of the dead)

Monday - Thursday 15-22 o'clock
Friday & Saturday 12-23 o'clock
Sunday 12-22 o'clock
Dear friends of the "Romantic Christmas Market at the Thurn und Taxis Castle"in Regensburg!
We are happy to inform you that our Romantic Christmas Market at the Thurn und Taxis Castle will open its gates on November 19th!
Currently we cannot make a binding statement to any Corona loosening. We want to guarentee a safe plus carefree stay for all of our guests! We will introduce all decisions met by the leading politicians of Bavaria in our safety concept. If we receive any news in terms of the latest restricitions or loosenings, we will publish them here.
Due to the Corona-restrictions by the federal state of Bavaria our guests have to be fully vaccinated (twice by the vaccines from Astrazeneca, Moderna or Biontech and once from Johnson & Johnson). If you have overcome an Corona-infection in the past six months, which is also detectable, the obligation to be fully vaccinated is not applicable. In case you cannot provide one of the states mentioned above, you have to present a negative PCR-test, which may not be older than 48 hours.
Children under the age of six do not need to be Corona-tested. Schoolchildren with a valid pupil's ID card are excluded from the general compulsory test.
Therefore, we work motivated and productive on the preparations for the "Romantic Christmas Market at the Thurn und Taxis Castle" 2021! All information regarding the market you can find on our homepage and social media channels!
We are delighted to meet you again soon! Until then: Stay healthy and safe!
There are no news items for this period.
Ratings of our visitors:
Just beautiful! Fantastic ambience! I always enjoy coming here!
A very nice medieval Christmas market. In the evening the atmosphere is the most beautiful!
A very nice Christmas market in the castle courtyard! There are many stalls and it is great prepared. However, I personally think that the entry fee is a bit too high. But once a year, you can already go!
This Christmas market is really romantic and a bit different than the usual markets. It is also very well secured. You just feel good. But it costs entry fee. The value for money is right. In general, Regensburg is a great city. Always worth a visit.
(Based on Google ratings)